You are here
Eusebio Di Francesco Happy with the Win over Qarabag
Submitted by
content
on Thu, 10/26/2017 - 09:13
Roma coach Eusebio Di Francesco claims that he is extremely pleased with the team managing a 2-1 win against Qarabag in the Champions League.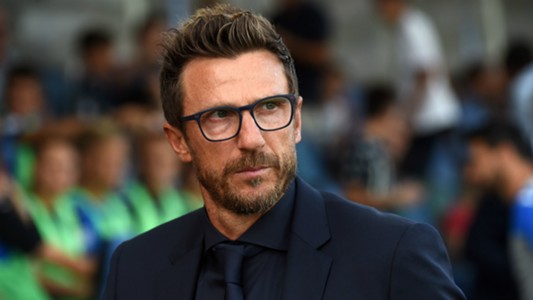 After having failed to make a major impact in the first two rounds of the competition, it was extremely important for Roma to win this game in order to stay in contention for the qualification places. The Italian outfit have been placed in a tough group -containing Chelsea and Atletico Madrid. Hence, Qarabag were seen as the only outfit capable of providing, with certain three points coming into the game. However, the Italian outfit had to work for the victory and were only able to get the three points courtesy of goals from Kostas Manolas and Edin Dzeko.
Qarabag were able to pull one back just before half-time and in this kept the game in an uncertain position throughout the 90 minutes. Rome were certainly not expecting an easy game out of Qarabag, despite the team coming on the back of a 6-0 thrashing at the hands of Chelsea in the previous match.

After a difficult start to the season, results have been better for Roma in the recent weeks. However, losing ground to the likes of Juventus and Napoli earlier in the campaign means that the club find themselves in the fifth spot of the table.
"You can't have any regrets after a win.We certainly could have done better at 2-0 but you can't forget Roma haven't won in the Champions League for some time and that this was a difficult atmosphere.Every time Qarabag got the ball and ran forward, it was as though they had the chance of a lifetime. We could have controlled the ball better and we took some risks late on, but Qarabag are in the Champions League, which means they have quality," said the Roma manager.